It has been tremendous to see the overwhelming support of medical students towards the Black Lives Matter movement. MedSoc stands next to those who champion for equality at our University and in our communities. As MedSoc, we feel we are in a position to play our part in addressing race education and stamping out racism within medical education. 
Thus we have decided to launch our campaign 'Cut Racism Out' outlining our key initiatives:
We will send a series of social media posts to continue our support for BLM and provide educational resources that look to challenge internal biases within us. In addition, we will create a blog where medical students can anonymously share stories on placement/University in which they felt discriminated upon.
Race Education in the Medical Curriculum
A review of the curriculum that looks to develop the skills and confidence of medical students to recognise and treat different case presentations of disease that can occur in different races. In addition, we want lectures, reading material and teaching resources that looks to challenge internal biases when interacting with patients and peers.
Inquiry: Reporting Procedure of Racism incidents in Medical Education
We will look into the reporting procedures from all placements affiliated with Sheffield Medical School. We want student engagement on their experiences of reporting concerns and the protocol all placements follow to manage reports of racism to ensure they are not repeated.
Each task will have a dedicated team of MedSoc committee members to push and advocate for these initiatives. From meetings with Professor Deborah Murdoch-Eaton and staff at the medical school, they are completely supportive of our aims to promote equality and look to work closely. They are keen to listen to the students and we will push for student consultation to ensure that we get the changes we want.
We are appreciative of everyone's support. Any questions in regards to our campaign get in touch with the MedSoc Facebook account.
If you have a sensitive matter in which you want to reach out in confidence, please email welfare@medsoc.net
13th (Netflix)

When They See Us (Netflix)

I Am Not Your Negro

The Color of Fear

Selma

I Am Not Your Negro (Netflix)

If Beale Street Could Talk
Disclaimer: This is in no way an exhaustive list of resources! For more, here are some links to even more resources:
Previous Post from MedSoc
Just in case you missed some previous social media posts from MedSoc regarding the BLM movement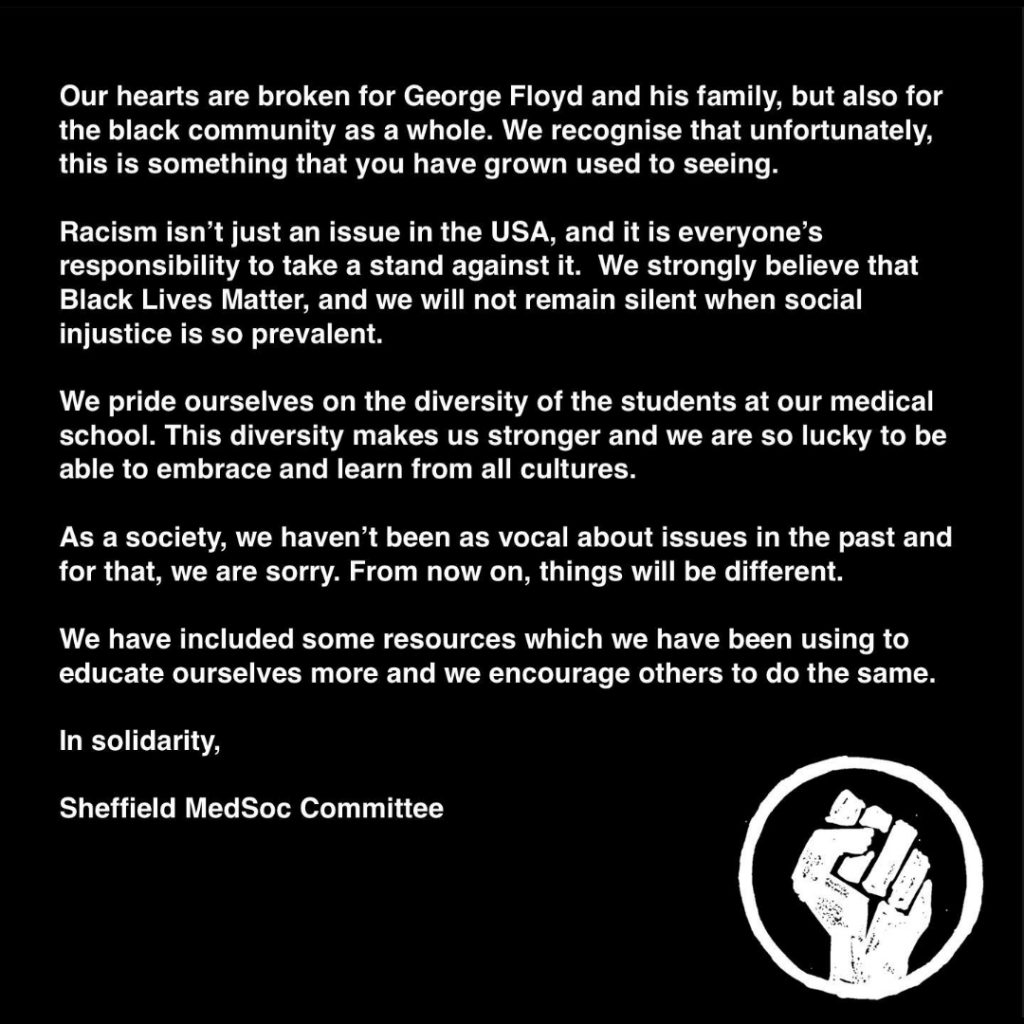 Instagram – 04/06/2020 on @sheffmedsoc
Facebook – 10/06/2020 on  www.facebook.com/SheffieldMedSoc